In line with UN sustainable development goals, we strive to achieve a balance between creating a comfortable and well-equipped school campus and protecting our environment and natural resources.
The environmental infrastructure has been improved to make our campus more environmentally friendly and sustainable.

Greening the campus
1. Greening projects
Thanks to the Greening School Subsidy Scheme organized by the Leisure and Cultural Services Department, HKSAR government, our school has implemented greening projects to serve the purposes of not only beautifying the school campus but also increasing its ecological value.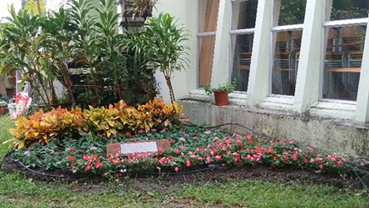 After several years of concerted effort in organic planting, a variety of plants have been grown in almost every corner of the outdoor areas, particularly the ecological garden and the green trail.
(a) Ecological garden
The ecological garden is an open area partly sheltered by trees of different species, such as the Flame of the Forest which has an umbrella-shaped crown. They provide not only a shelter but also a wildlife habitat for many birds.
A variety of plant species, especially nectar-producing plants and butterfly host plants have been growing in the garden plots to attract different species of butterflies and other insects. This can increase biodiversity and provide a site for education for sustainability.
Butterflies on the plants in the ecological garden
(b) Green Trail
Near the hall, the green trail has been set up and planted with potted greenery to decorate the school building and serves as a reminder that we need to care for the plants and the environment.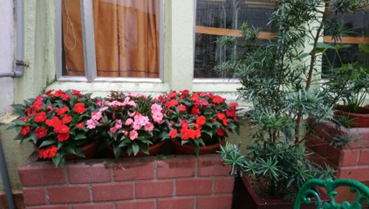 2. Greening activities
Every year, our school joins the 'One Person, One Flower' Scheme organized by the Leisure and Cultural Services Department, HKSAR. Greening activities are held to cultivate students' interest in growing plants and their greening consciousness.

To recognize our endeavours in greening the environment through campus greening projects and greening activities, our school was honoured to receive the second runner-up in Greening School Project Award in the categories of Small Garden Plot (Secondary School) and Large Garden Plot (Secondary School) in 2020-2021 and 2022-2023 respectively.

Environmental facilities
1. Facilities for the dissemination of environmental information
(a) The notice board on the fourth floor is used to show green tips and environmental information based on the annual theme set by the Student Environmental Protection Ambassador Scheme.
(b) The notice board on the ground floor is used to display the school's environmental policy and guidelines as well as environmental activities held by external organizations.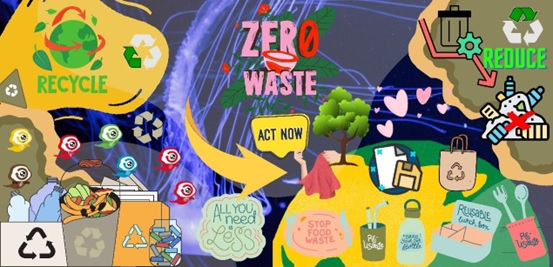 2. Facilities for achieving sustainable development goals
(a) To support the Sustainable Development Goals 12 'Responsible Consumption and Production', 13 'Climate Action' and 15 'Life on Land', and the 'Sources Separation of Waste and Waste Reduction Scheme' organized by the Environmental Protection Department, the recycling boxes for waste paper are available in all classrooms and staff rooms. All members of the school can dispose of waste paper for recycling easily.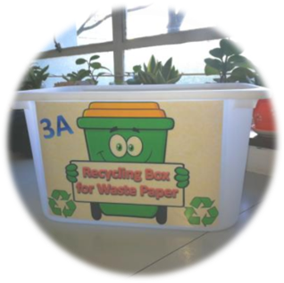 An iron cage has been set up near the car park for waste paper collection from recycling boxes.
(b) To support Sustainable Development Goal 3 'Good Health and Wellbeing' and Sustainable Development Goal 12 'Responsible Consumption and Production', new filtered drinking fountains have been installed for students to refill their drinking water. The purpose is to encourage them to bring their own reusable bottles and reduce single-use plastics on campus.
(c) To achieve Sustainable Development Goals 7 'Affordable and Clean Energy' and 13 'Climate Action', the conservation features, including the glass walls in the library and interview room, as well as the transparent roof have been built to allow the use of natural lighting. Energy-efficient windows and LED lights have been installed to save energy in the classrooms and special rooms. Also, motion sensors or timers have been used for automatic light controls. All of these features can help reduce electricity consumption and greenhouse gas emissions.