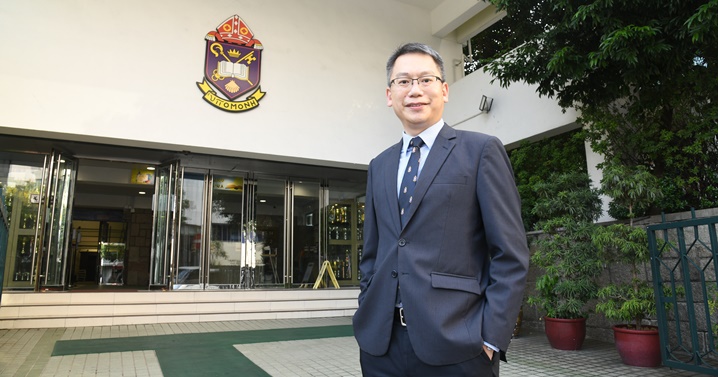 Welcome to the Sheng Kung Hui Tang Shiu Kin Secondary School website! I hope you will learn more about our school here.
It is my honour to have the opportunity to serve as the ninth principal of Sheng Kung Hui Tang Shiu Kin Secondary School, a co-educational Christian school located in the Wan Chai district in Hong Kong.
Hong Kong and the world have been experiencing wave after wave of challenges. COVID-19 has disrupted the usual rhythm of schooling for teenagers and children. Our highly effective teachers have reacted promptly and adapted to the new normal of schooling to help our students excel in their learning. Our habit is to see challenges as opportunities to demonstrate our will and determination.
In TSK, we know clearly that each student is unique. We have a long tradition of encouraging every student to achieve their very best in academic studies and other aspects such as leadership, sport, music, art, and culture. We have built as many platforms as possible to give students ample opportunities to shine. It is our goal to empower students to own their learning, whether in academic studies, extra-curricular activities, or personal interests.
It is our mission to equip teenagers with the qualities essential for becoming an adult. TSK teachers are dedicated to helping our students develop their values and characters through daily life experiences. We help our students learn how to live with passion, dedication, and commitment to become better people.
As an Anglican school, another mission of our school is to nurture students with Christian values since possessing the power of discernment allows students and graduates to make sensible and responsible judgements. "Your word is a lamp for my feet, a light on my path" (Psalm 119:105).
Last but not least, as we celebrate our Diamond Jubilee anniversary in the 2022-2023 school year, it is an excellent opportunity to reconnect with the TSK community of alumni, teachers, students, parents, and friends. Please visit our Diamond Jubilee page and stay tuned for further details.
I trust that as you visit the pages on this website, you will gain a lot of useful information about our curriculum, programmes, and other activities. Please also follow our Facebook and Instagram pages to get a taste of our school life. I sincerely invite you to come and see us in action, so you may see for yourself all that we have to offer.
Alan K. H. Yuen
Principal